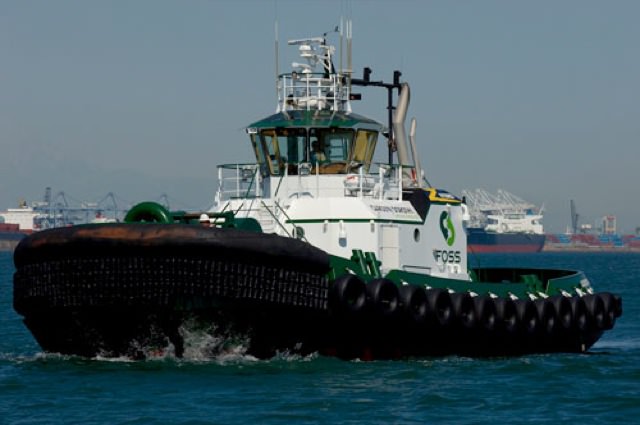 Electrically propelled tugs aren't new. Rumours of hybrid tugs began as early as 2007, with Foss Maritime building the world's first hybrid tug, the Carolyn Dorothy, in 2008. Since then, we've seen a number of new players—Wärtsilä, GE, Damen, Corvus Energy—offering hybrid and electric tugboats or conversions for existing diesel tugs. With the recent improvements in battery technology spearheaded by Tesla, who can say when fully electric tugs will take over?
There are many good reasons for the emerging prevalence of hybrid tugs.
Reduced Emissions — Foss declares a massive 73% reduction in particulate matter with their hybrid tug technology, and a 27% for fuel related pollutants.
Reduced Fuel Consumption — Foss state an estimated reduction in fuel consumption due to reduced idling and increased engine efficiency of 20-30%. Wärtsilä simply state a "significant reduced fuel consumption", achieved by battery systems ability to handle variations and low load modes, and by operating the engine and propellers as close to their optimal curve as possible. Incidentally, Wärtsilä launched their new HY Tug design at the Asian Tug Technology and Salvage conference in September this year, right here in Singapore.
Instant Power — Batteries allow the response time for load taking to be near instantaneous; an instant improvement to the manoeuvrability of the vessel. Electric power can be maintained until the diesel engines come online and up to full power (less than ten seconds).
Although fully electric tugboats are still rare, hybrid tugs are quickly rising with orders recently being completed for the Royal Netherlands Navy, Multraship, and Iskes Towage & Salvage.
Elon Musk (of Tesla and SpaceX renown) expects to a see a 5% increase in battery capacity per year. With battery cost improving by 80% per kW over the last 10 years, and Musk further saying his battery Gigafactory price per kW is aimed at breaking US$100 before 2020 (far ahead of most estimates), expect electric tugs to make an impact on the scene very soon.
References and further reading
https://www.foss.com/foss-innovation/the-hybrid-tug/ retrieved 23/10/2017.
By Richard Knights, 23rd October 2017.